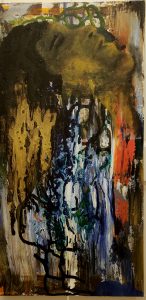 Smith Thomas is currently working on a new collection entitled "Le bon Dieu est une femme" (The good God is a woman).
The collection will feature paintings and sculptures that pay homage to the beauty and complexity of women.
The artist says, "The faces are intentionally nondescript as I don't want people to see a specific woman when they view them. No celebrities. No news or history makers. I want them to see all women or, ideally, a woman who is important in their own lives."
Watch this site for updates on new additions to this beautiful collection.